An interview from FHM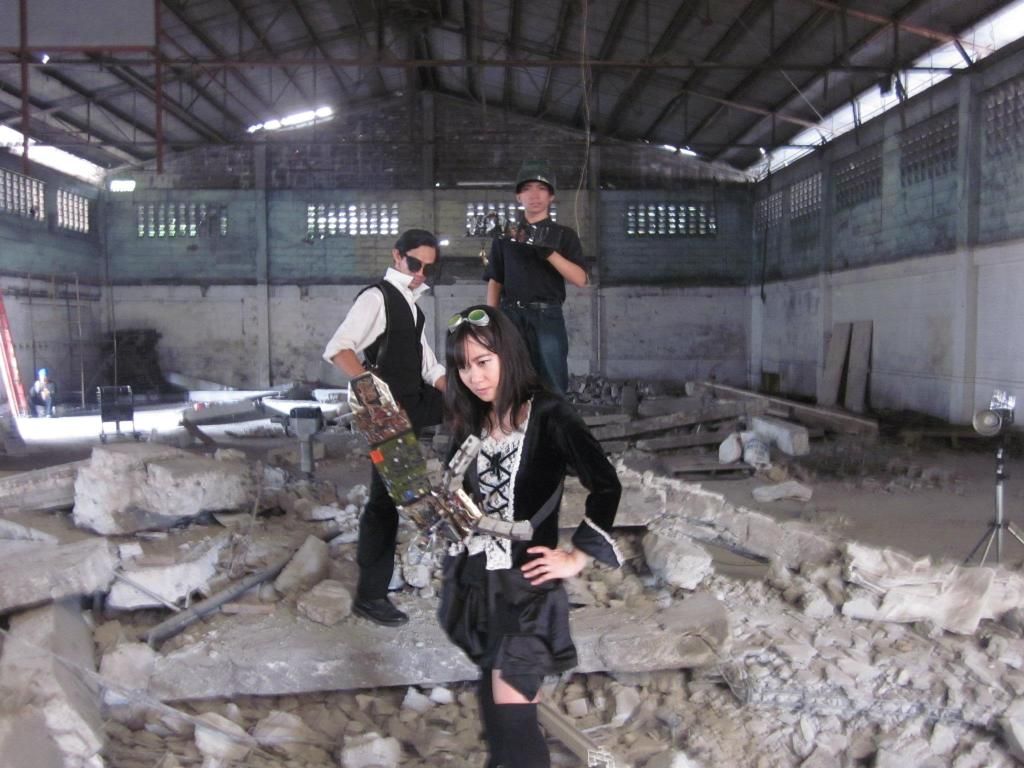 One of the pictures not featured in the April issue of FHM.
Foreground:
This interview was made two months ago by one of FHM's writers, Michelene Lagdameo. The interview tackles about the scene as well as its relation and comparison to the usual cosplay that is anime related. It was quite nice for this writer to be a part of that discussion to think of it as primary and the pictorials involving this writer, rather as secondary.
However, that said interview was simply
not entirely shown in the April issue
of that said magazine except for a snippet said from the discussion. And somehow that article also includes the writer having a "hand" full of circuits and stuff, but obviously he's not a cosplayer to do that kind of work.
In fact, long before that pictorial and interview session, this writer was simply compelled by his late friend's friend for the interview. URC Compound, wherein Summit studio is located, is entirely a purely industrial complex (that is, specialized in flour, while others for coffee and potato chips) compared to the studio that supposedly should be in a commercial district like Ortigas and Libis; but one of the URC's warehouses wherein the shots done also served as its studio for FHM.

This writer even smelled wheat too, and even looked at the barge (via the bridge of course!) carrying it before vacuumed for the mill. Indeed, that made him created an article about the status of factories in Pasig.


Quite weird for this writer to get involved in a Man's Magazine. In fact, he's not even a cosplayer but rather as a writer who, as a friend of one of the early progenitors of "Steampunk" scene in the Philippines (sadly he died a month before that), being compelled by the latter's pal (whom this writer thinks he's attention getter) to join both as it's model and primarily for the interview alongside that pictorial.
Perhaps, that was the first time he became a model...for once, and last. And perhaps, to start it all, hare the questions given to Ms. Lagdameo to yours truly.
ML: When did you first get involved/interested in Steampunk?
PS: Well, to a History and Art enthusiast, I am easily acquainted to the scene out of reading novels and illustrations depicting alternate scenes especially those using 19th and late 20th century scientific discoveries and inventions just like Jules Verne's works "Man on the Moon" and "Journey to the centre of the earth." But personally, I am much into the Dieselpunk scene (that is, a variant of steampunk) since it is much applicable to the Filipino setting due to the American occupation with its legacy of art nouveau and deco architecture.
ML: How would you best describe Steampunk?
PS: Steampunk, being a subgenre of Science Fiction and Alternate History, means effort to replicate the past using imagination being put into practise such as fashion, music and visual art. But most people, especially the youth tend to look the genre as purely fashion due to cosplays. It's not even a purely fashion sense that commonly thinks of, but rather a genre that everyone, whether it is cosplayer or not, understand and appreciate the arts and history within it. Personally, I am not a cosplayer but I appreciate the genre itself by other means such as writing and art.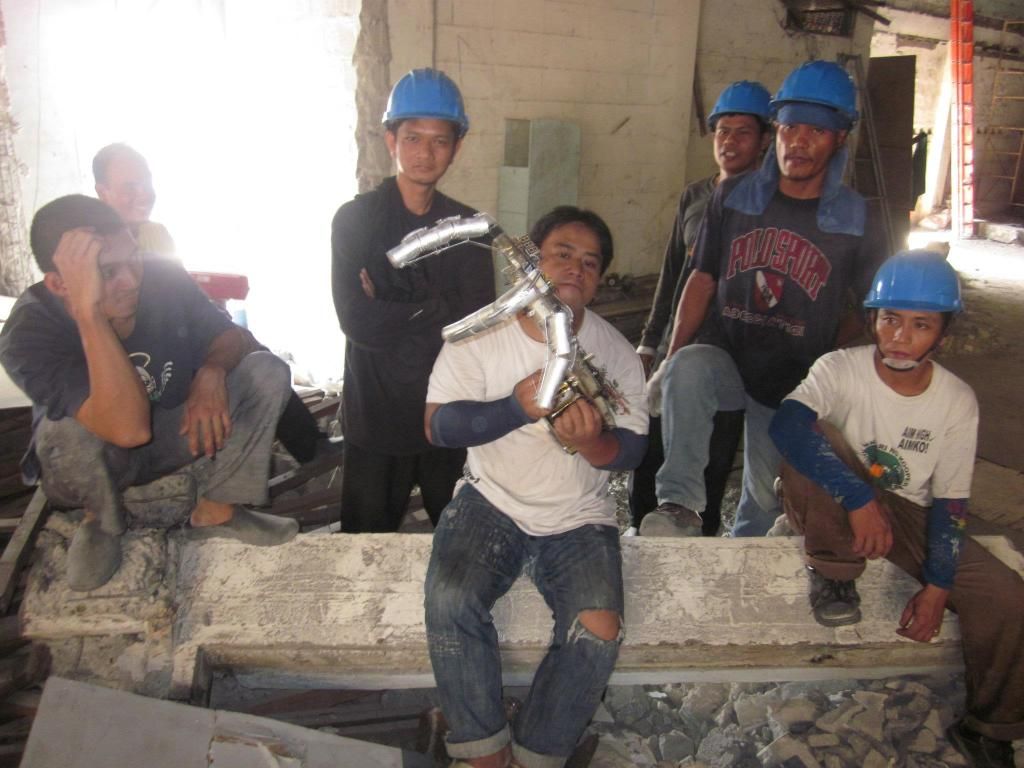 Seemed that the construction workers in URC Compound in Pasig also enjoyed that "Mechanical Hand."
ML: Please detail how your group was formed.
How many members do you have?
What are activities or projects your group do or get involved in?
PS: If I'm not mistaken, it was founded by my friend, the late Reyson Sanchez (who likes steampunk very much); and I was chosen primarily to administer the site, known then as "Pinoy Steampunk" in Facebook. Lately, there are 93 members according to the site (last February) And what I also remember was that Mike (Reyson's friend who usually scorned due to his naivety) and Reyson(+) made a bicycle that was earlier featured in FHM I think?
Mike (the naive friend of the late Reyson Sanchez) tend to popularize the scene
as he insisted this writer to be a part of it and also to serve
as a speaker for the interview; in fact, this writer thinks of him as too obsessed
with publicity and perhaps still doing so "for old time's sake."
ML: How do you see Steampunk affecting the usual anime cosplay scene? How are you different?
PS: Well again, I am not really a cosplayer; but what I see is that some, if not most cosplayers would entice to do steampunk aside from the usual anime and gothic lolita. Some even done cosplays similar to movies such as hellboy, anime like steamboy; or even done 19th century and WW2 military uniforms and the like, therefore they would likely relate unto it.
ML: What's next for Pinoy Steampunk?
PS: Perhaps the group will collectively decide on further matters to be done in the future. For now need to maintain the site and also promote steampunk and its derivatives in my blog, not just entirely about fashion and mecha, but also the idea that emanates from it. (Perhaps, the page remains the same as this writer, also one of the administrators of the page focused much in his work as a writer and artist.)
***
In fact, this writer somehow loved the scene for quite some time the way he loved History as his subject, but perhaps he's rather more into writing and sketchwork than what he once did so on that issue. First and foremost, he's not much (or rather, not) of a cosplayer to done attires similar to anime and other sorts; but instead as a writer and an artist who enjoys his talent most instead of what he once had that time.
Anyways, he's currently had a lot of work to be done.