"A visit to Escolta Museum"
It was last month when this writer simply visited this museum in one of the financial arteries of Manila.
With a fee of 50 pesos being paid, this museum showed relics and memories of a glorious past, when Manila was known for its Art Nouveau and Art deco buildings, especially those from its financial centre, Escolta.
Quite nice so to see such memories that end up rather in pictures in magazines, textbooks, in recollections of elders; otherwise in seeing such edifices rather left rotting and eventually to be demolished in favor of tasteless ones with "modernity" as its alibi, unless it is protected by law with a plaque from the government recognizing it as a site of heritage.
In fact, this writer may have no grudge entirely with modern day living, but forgetting the legacy of a proud past in favor of mere contemporary living made "for sake" creates dull people who lives in order to join the flow and consume; for sure some would think that is everyone live only to work, earn, buy, consume and die? Weird isn't it?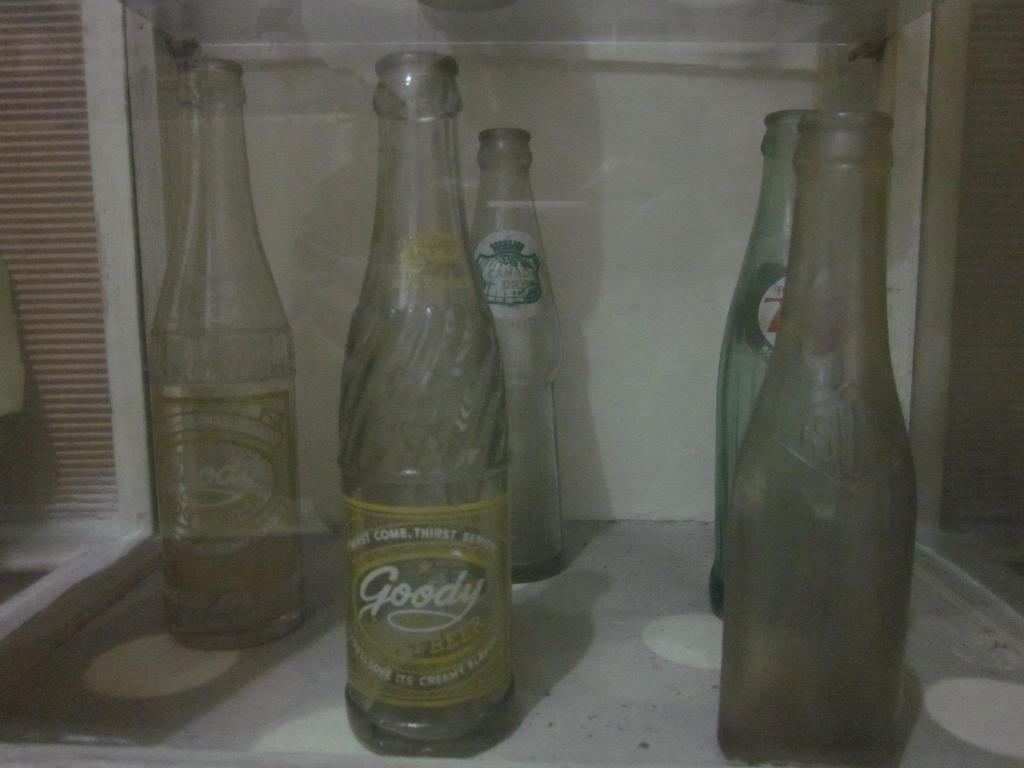 That even these products like Goody root beer, Mission or Imperial Beverages were deemed to be forgotten regardless of its popularity due to cheapness or what, and if asked, what everyone knew is Coca-Cola or Royal Tru-Orange. Thanks to San Miguel who nearly monopolize the soda industry as Cosmos Bottling also had Cosmos soda (then Pop Cola) as it's competitor.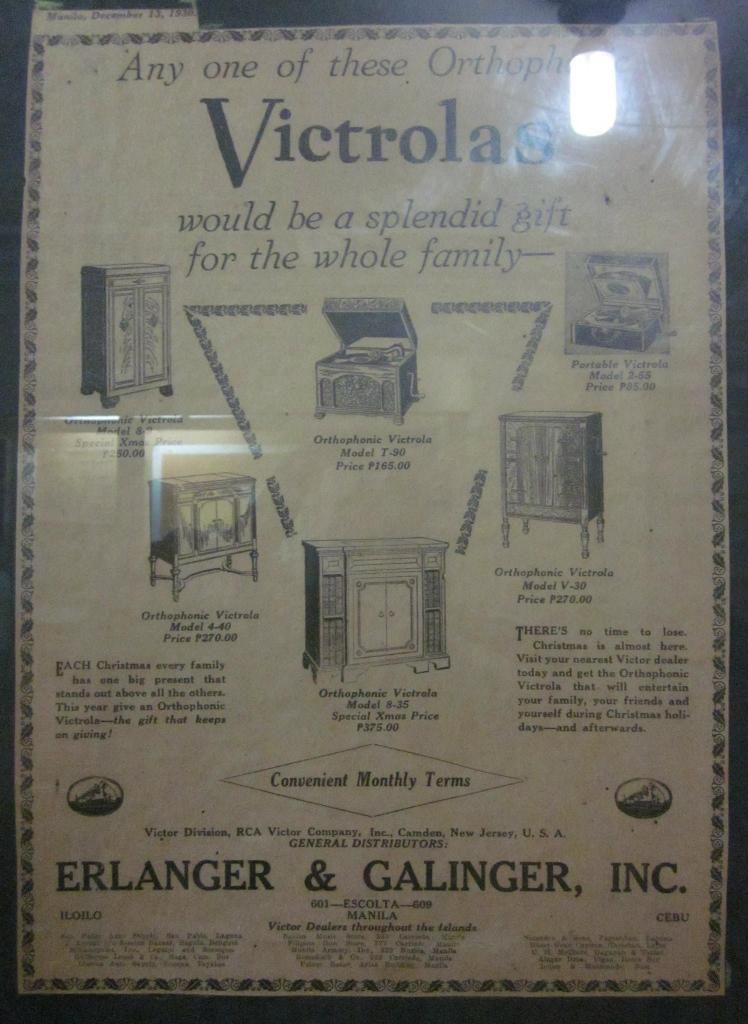 The museum also feature advertisements made centuries before. Like this RCA Victor Gramophones and Radios, quite rare to see such radios that most are merely displayed in prominent houses or in museums, otherwise being used sometimes during social events due to those who took time maintaining it carefully in order to make it " in a movable condition."
Yes, "a Splendid gift for the whole family" to see such these memories upon seeing these in the museum, that elders would say that during those times everyone was simple yet prices were quite cheap or require a good saving just to buy such luxury like phonographs and sewing machines, that most would eat Panocha (Sugar) as their "Candy", yet the buildings during those times were edifices that somehow applicable to tropical, Filipino setting other than the lowly Nipa Hut and the Bahay na Bato.
So were the bottles that once carry gin or softdrink, or medicine.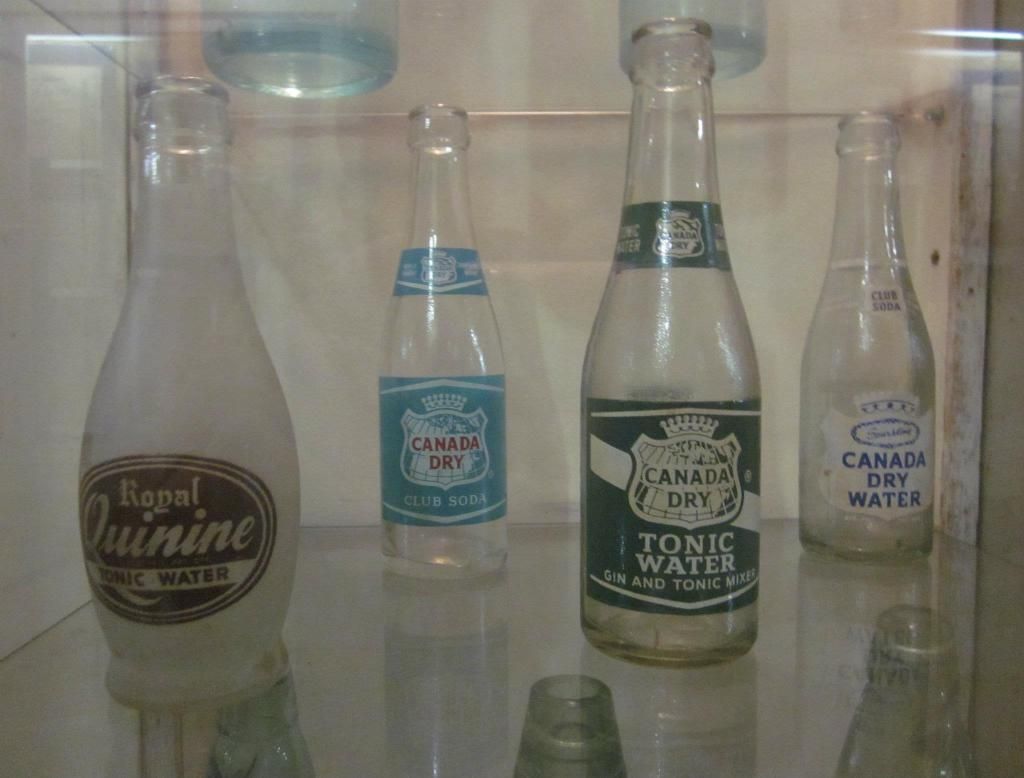 Or rather say softdrinks that others took it vigorously as medicine due to its curative properties. Sarsaparilla perhaps and tonic water would be.
And last but not the least, the reciepts coming from once prominent stores in Escolta. Heacocks, for example, sold imported goods and also served as the main office and studio of DZRH before the war, FYI: RH means Radio Heacock.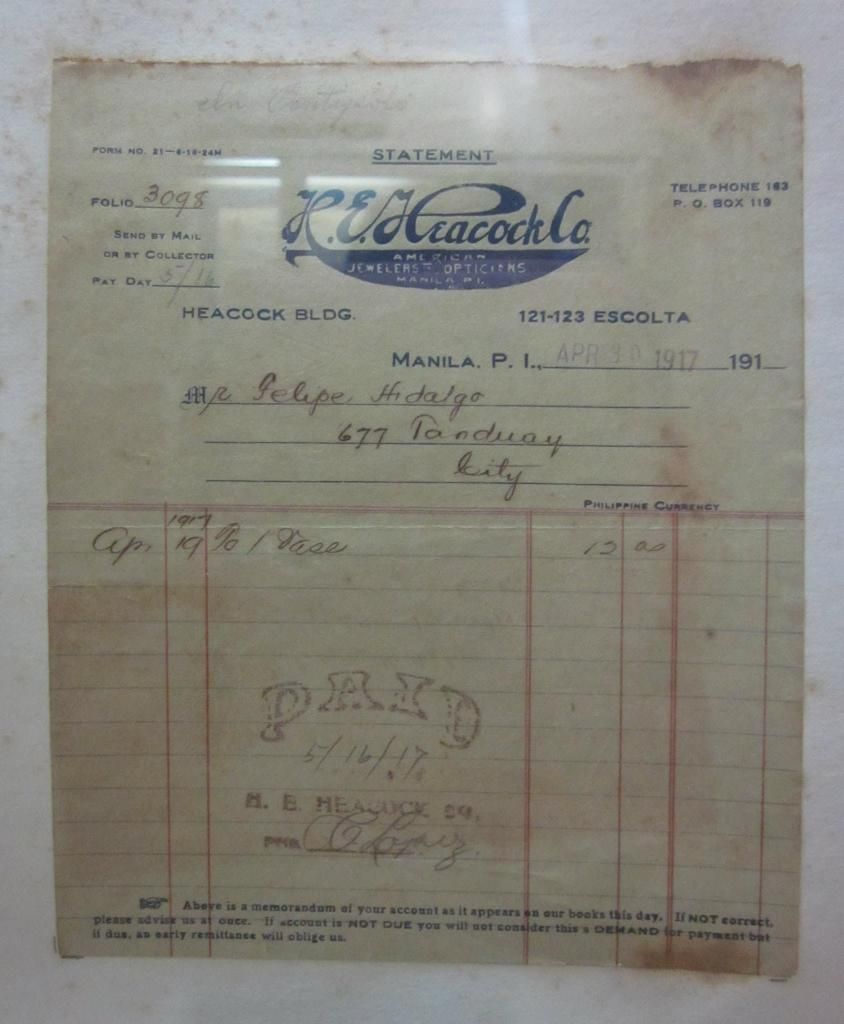 Anyways, to those who may take interest in revisiting the past and perhaps our dreams history as its subjects, in a sum of 50 pesos, for sure you will have a journey to the past in this museum other than going to every edifice in the once financial centre of the Philippines: Our Escolta.
The museum is to be found at the second floor of Calvo Building, 266 Escolta Street, Sta Cruz, Manila.