"How is the Zoo going?"

(or notes after Manila Zoo)
by Charlene Bernabe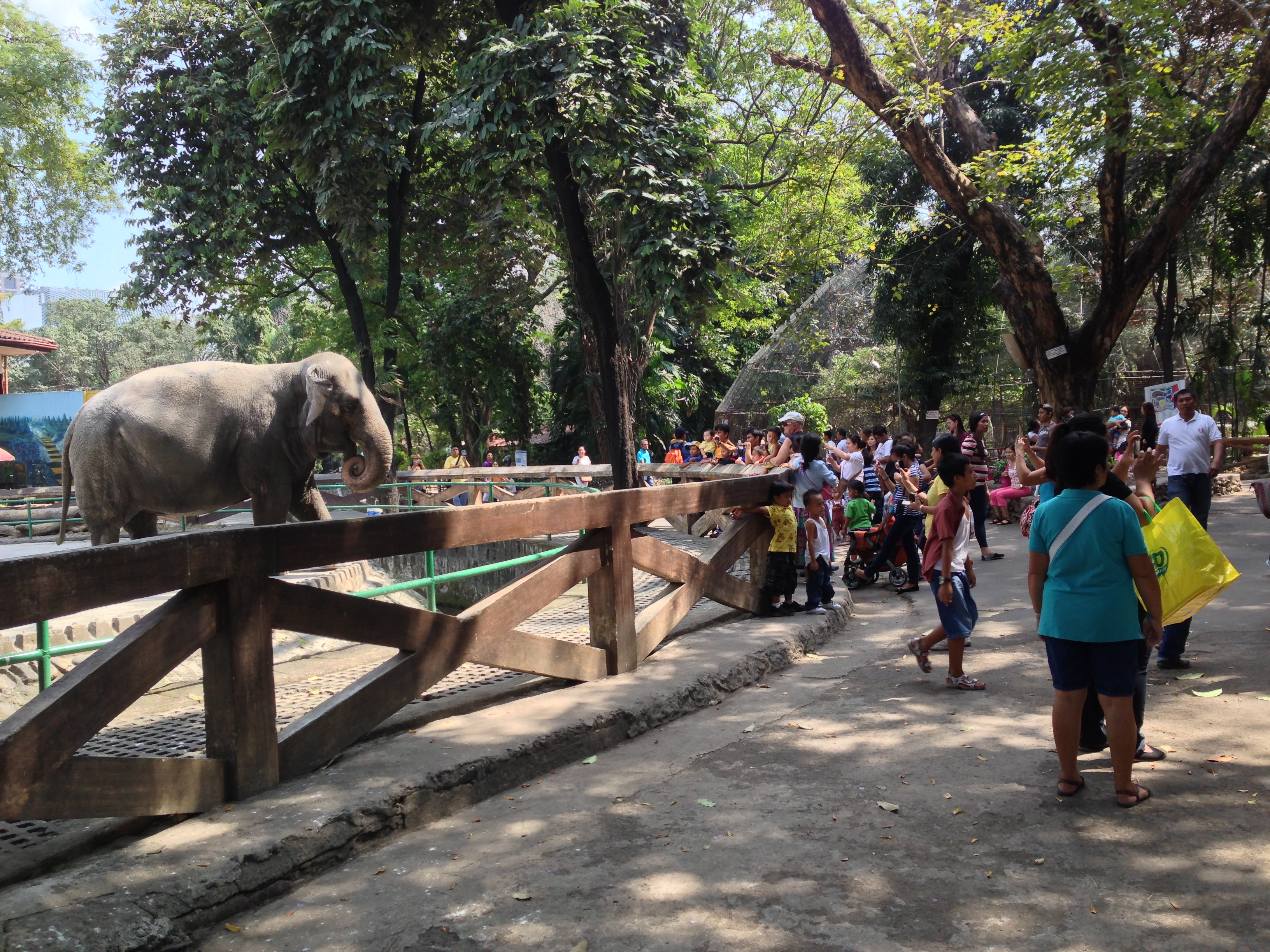 Mali the Elephant at Manila Zoo
(source: GMA News)
Since its establishment in 1959 in the former Harrison Square in Malate district, the Manila Zoological and Botanical Garden, known by many as the "Manila Zoo", has brought memories to those who had visited there, especially children who had fondness for seeing various animals.
And since April 2015, the 5.5-hectare (14-acre) zoo has been home to about a thousand animals from 90 species coming from both Philippines and Abroad. Animals like the Asian Elephant, African Giraffe, Bengal Tiger, Monitor Lizard, Hippopotamus, and others, that has made people from all walks of life see how these creatures has made that said place well-known for generations, especially those of Children during their field trips if not family respites during weekends. It is also home to many plant collections, from the botanically rich and diverse Philippines and other countries within the South Pacific region.
A sorry state for the area and its inhabitants
However, despite being visited by many, the Zoo has been criticised due to its inadequate animal care and surroundings deemed unsanitary for the viewer and the animal itself. And despite operating in accordance to the Animal Welfare Act of 1998, the zoo has been a subject of public scrutiny in regard to their animal welfare standards especially from its "Wildlife Rescue Center" that serves as repository and shelter for its confiscated, sick, or injured wildlife species. Several concerned groups like the "People for the Ethical Treatment of Animals" (PETA) has called for the closure of the zoo after pointing out numerous issues, besides its global campaign claiming how zoos aren't beneficial to animals given its repressive condition.
One issue being tackled by PETA is the state of Mali, the aged captive elephant in that said zoo as well as in the Philippines. According to the group, Mali spends her days pacing the same concrete area after being transferred from Sri Lanka to the Manila Zoo in 1977. It's sorry state includes isolation and captivity-induced foot problems, and according to World-renowned animal conservation expert Dr. Jane Goodall, she also learned that Mali "has not even had basic blood work conducted in the three and a half decades that she's been at the zoo."
A just rehabilitation? Or Selling it altogether in the name of commercialisation?
Few years ago, a total of 1.5 billion pesos will be allocated for the rehabilitation of the zoo, and be implemented through a public-private partnership with a Singaporean firm. But rumors about its "rehabilitation" includes an alleged sale to private interests especially those yearning for a commercial complex, that affects not just the state of animals but also hundreds of 60-70 year old trees, that somehow showed how that said area also served as a "green lung" in an highly urbanised metropolis be threatened by those whose usually disregarded effect includes increased urban heat, noise, pollution and even loss of sense of place.
Perhaps the concerned, driven by nostalgia and a desire for the coming generation to enjoy nature within the city, expressed that even if it is considered one of the world's dirtiest zoos, Manila Zoo is undoubtedly one of the few remaining spacious green spaces in the City of Manila coming from the original "Harrison Square". It's just cool looking at those trees, especially those stood for 60 to 70 years, yet still standing amid all these mess within the degenerating metropolis.
***
Charlene Bernabe is a student major in "Broadcasting" at the University of the East. This work is supposed to be for academic purpose as part of a groupwork.
Sources:
http://www.mirror.co.uk/news/weird-news/mali-the-elephant-has-been-in-solitary-for-35-1154237
http://www.petaasiapacific.com/feature-free-mali.asp
http://kickerdaily.com/manila-zoo-soon-to-be-world-class-after-rehabilitation/