Reflections on last week's issue on the uprooting of trees at SM Baguio
Pine trees cut or uprooted in SM Baguio
before the imposition of TRO (Temporary Restraining Order) laid by the courts
Last week, everyone is talking about this "hell of a kind" matter after shown in every news report and as an article in every newspaper.
As most activists, as well as environmental enthusiasts protested, "Occupied" every SM mall all because of this: cutting, earthballing 182 trees.
This matter, at first would say that is desperate how come activists also involve in environmental and heritage awareness other than social consciousness like those of opposing repressive regimes? Or even thinking that those actions, like any other matter those radicals done to as counterproductive and against development in Baguio.
However, There are rather some that would greatly sympathize with the matter out of nostalgia, to think that Baguio, being a City of Pines meant more trees for a cool setting; and if to be cut, or moved, may rather cause worse effects triggered by climate change and global warming. That their protest is justifiable regardless of being violently dispersed in a private, controlled, public place.
In fact,this writer would say that here comes another wave of moves against the system most would likely to oppose.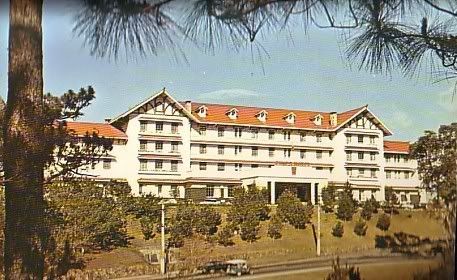 Pines Hotel
The original building situated in Luneta hill before occupied by SM.
For sure those Pine trees in Luneta hill served as its legacy, why to be cut or earthballed for the sake of extension?
Once the site of renowned Pines Hotel, SM Baguio is one of the sites that tries to feature "Green" architecture and design, as well as mirroring the Cordilleran setting in the modern times.
However, it seemed that in pursuit of reducing road parking and the alleged soil erosion as the management complained about, they simply took the blame on, or rather say raising the cause of its intention to set their move, to the age-old pine and other trees situated in the site, that most of it were rather a heritage that made Pines Hotel prominent and Baguio City itself a City of Pines.
Trees in SM Baguio before the uprooting attempt
Quite considering at first on earthballing trees, of moving it in another area cautiously not to harm the tree's health: but on the other hand, such actions may also meant thinking too hastily and not noticing that some of those trees are too old to be moved hence will die if being placed another spot? Pragmatic as this writer would say. And to think of about that matter, of uprooting age old trees in pursuit of extending Shoe Mart in Baguio? This writer would say that yes, that is part of improvement, of modernizing Baguio, of justifying it as SM property and has the right to do in that property; but then they simply not noticing Baguio is situated in a mountainous area, thus development ought to be sustainable and limited-recalling the earthquake years ago that one of its causes were mining and reckless development in Cordillera; or earlier, the Chico Megadam project and the actions made by Cellophil Resources Corporation that end up scrapped due to complains that involved flooding of rice terraces and traditional sites in Kalinga-Apayao and other provinces in the Cordillera Region.
After all, at first that property was and is supposedly for the Kaigorotan, specifically to the Ibaloi tribe. That Luneta hill is part of their heritage, from the brown soil, green grass and the pine trees planted and grown, it is rather their property handed over by their ancestors, that despite the building of later edifices it ought to be in accordance to nature hence be in symbiosis and sustainable. How come Pines Hotel before became known if not for the pine trees situated there?
The proposed expansion of SM Baguio that involves uprooting of trees
This writer would say that this writeup is meant for others to get critical, if not entirely to oppose SM's further moves in the name of commercialism, of sacrificing ancestral heritage of every people as sovereign in the name of superficial development with the alibi of foreign investors would come and go, invest and create markets in every corner of the archipelago; most of the news reports today are tackling about Spratlys, Panatag, Balikatan exercises, Chinese and American interference in Filipino affairs, but how about also this serious domestic matter? Does everyone remember Cellophil and Chico Dam? The earthquake in Baguio that involved a thousand deaths?
Or rather say should everyone wait for another earthquake and see that the place in Luneta Hill end up condemned and not to be built again?
In fact this is not even a purely activist matter as most would think of much. In fact is everyone go to Baguio only to go to SM? How about the ukay-ukay stalls in Session Road? The specialty shops in the market? The ones situated near mines view park? In fact such superdevelopment made by SM, frankly speaking reduces local business especially in the highlands. Secondly, pessimistically speaking, why not that site rather being built in Camp John Hay instead of Luneta Hill? The former is much developed being a Once US military site as this writer would say aside from seeing a city proper full of clutter made by commercialism.
One commentator, named Percy Reyes even said that:
"Baguio, considering its delicate, ecological character, does not need big development projects and opportunistic over development...it should be remained as a compact, and ecologically balanced community."
Indeed, as most rather preferred seeing Baguio rather as a purely City of Pines that gives a natural appearance as a respite from a warm, lowland lifestyle. This writer, in fact went to SM and simply found common with other SM-owned malls in the metro. The commentator is not even an activist to speak something that opposes SM's moves out of heritage and perhaps being a purist, regardless of SM's intention that theirs as "green" and supportive of the environment.
Speaking on the environment, is that matter should be commercialized? Like Earth Hour or planting trees and other sorts that requite too much advertising and PR work? Isn't it supposed to be a policy of the people, through the state to impose stricter sustainable environment-related decrees such as awareness and programs made in pursuit of advancing sustainable development and ecological improvement? In fact most programs nowadays are rather made out of charity than a policy to undertake, sorry to say so but it makes a matter limited for a year, month or week, even a day.
For sure this time it is another phase of heritage versus commercialism in the land that the Sys should pay something to the Carino clan. In fact one of the members of the Carino clan opposed the move taken, As Councilor Richard Cariño, according to SunStar Baguio, then filed last February 27 a proposed resolution to bolster opposition to the planned redevelopment project of mall retail giant ShoeMart Development Corporation at Luneta Hill.
In fact, what Carino stated means further action if not to be stopped, the earthballing of trees meant to be a starting point for that major serious matter such as building a mall in an entirely forested area. Who's desperate to think upon a move such as extending in a forested area and justifying it by saying this is for development, for modernization, for improvement, or even its features as symbiotic to the Cordilleran environment, it rather shows desperacy as this writer say so.
SM tend to hid the attempt by placing temporary, high walls.
And if the moves continue to persist, regardless of the extended temporary restriction order made by the courts, expect a warlike setting would reemerge.
And to the people of Kaigorotan, in the City of Baguio who kept on resisting in the name of heritage and environmental awareness,
Agbiag ti Cordillera!