Revisiting ContemporAntiquity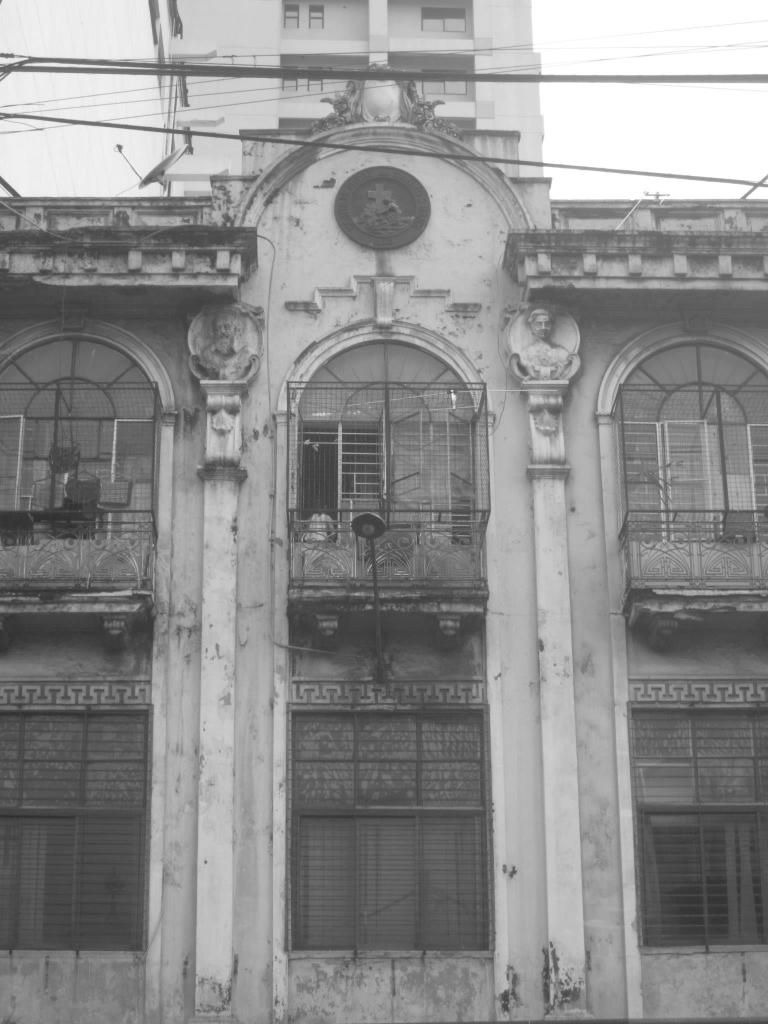 It was last Saturday when this writer visited Escolta and Binondo in Manila. And again, he sought old buildings that seemingly conteporantiquated yet left deterioration due to age and negligence from its current owners in it. Quite concerning to see, especially seeing intact yet deteriorating and in the end be condemned and demolished in the near future.



However, as this writer looked at every edifice, whether it was made pre or post war, of having neoclassical or futuristic, art nouveau or constructivist in its design, the edifices being shot and currently posted in this site somehow made this writer likely to say that how come these buildings made out purpose be left out and in the end demolished in favor of a design that is devoid of significance other than plainness and glasses?
Well, to some owners favoring demolishing old edifices, they rather look at the lot than the building, of having it sold a hundreds of thousands if not millions to create a trying hard skyscraper and hence be described as "development", that perhaps made conservationists say "why should development and conservation contradicting? Why not have it side by side?"
Quite strange isn't it? That if the Philippines takes pride in its heritage, of its history, of its churches and old stone houses, how about contemporary edifices made pre or post war? The old Monte de Piedad building at Sta. Cruz had been left deteriorated despite given citation, same as the old CoBanKiat building that perhaps needs a fresh cute coat of paint since CoBanKiat, if not mistaken, also owns Ace Hardware.
Such edifices that in need of rehabilitation somehow revives popular interest in the history of every district as well as getting developed without sacrificing heritage in it.
After all, this writer, also a heritage conservationist, is sensing that of what is national identity if it is limited to churches and stone houses, barong tagalog and dancing Carinosa? Worse, if moving on in the name of two-road progress be end up like ghettoes and trying hard westerners of the American than European kind?
And peaking of identity, how about Contemporantiquity then? As evidenced though its pre-and post-war edifices that despite deteriorating still carries a class that needs rehabilitation? To think that Contemporantiquity, coined by this writer meant carrying both greater traces of contemporary and antiquated styles and features through its edifices, of experimenting with clothing, accessories, even furniture, painting, any kind of art that its artist tries to stay true to national heritage yet seriously moving towards progress as contributor to its nation.
In fact, seeing old edifices such as in old financial districts like Binondo, Sta. Cruz, Escolta, even in Avenida Rizal are evidences of an idealized progress without sacrificing heritage. To think that how come London still keeps its identity same as Paris? Or rather say since the Philippines tries to act progressive, in which path, model that the current Filipino tries to emulate?

Same as the other countries whose heritage is being threatened, of what is history without heritage? Of what is culture without identity? Rampant yet uncontrolled development due to the interests of the few reduces everything into a mere figments of an imagination doomed to be forgotten, in a way old edifices are left, then rot and doomed by being demolished and replaced with another with a possible fate decades after.

This writer somehow getting concerned over these instances. Just like the old building of Monte de Piedad, that still left unrehabilitated despite having a marker. After all, to others who are apathetic and idiot, would ask this: what the heck is that building?


Perhaps, it is up to the average Filipino or any other nationality to revisit contemporantiquity or demolish in the name of stupidity that is progress.