Getting high out of bean curd and gluten:
the vegetarian food experience
It was way back last year when this writer had experienced eating vegetarian food.
Originally used to be picky when it comes to eating vegetables, this writer, out curiousity and looking for something different to eat, had experienced eating good vegetarian food in two of the restaurants he had visited: QuanYinChay vegeatrian food garden at Chinatown and Greens Vegetarian Restaurant at Scout Castor, Quezon City.
In fact, prior to eating at those restaurants, this writer's father, along with his family (including yours truly) nearly attempted to eat vegetarian food at Bodhi somewhere in Tutuban centremall in Divisoria, Manila. He thought that the restaurant served just chinese food, only to turn down and left just knowing that the food being served are consists of vegetables and mock, rather than actual meat in that restaurant.
Tsk, it would take years after for this writer to recapture the taste of a different kind of cuisine. Especially during his spiritual experience at Hare Krishna where vegetarian Prasadam (holy food) being served aside from playing kartals and some stint in playing harmonium. He had once asked where does those food being bought? Only to answer later in this writeup.
Greens Vegetarian Restaurant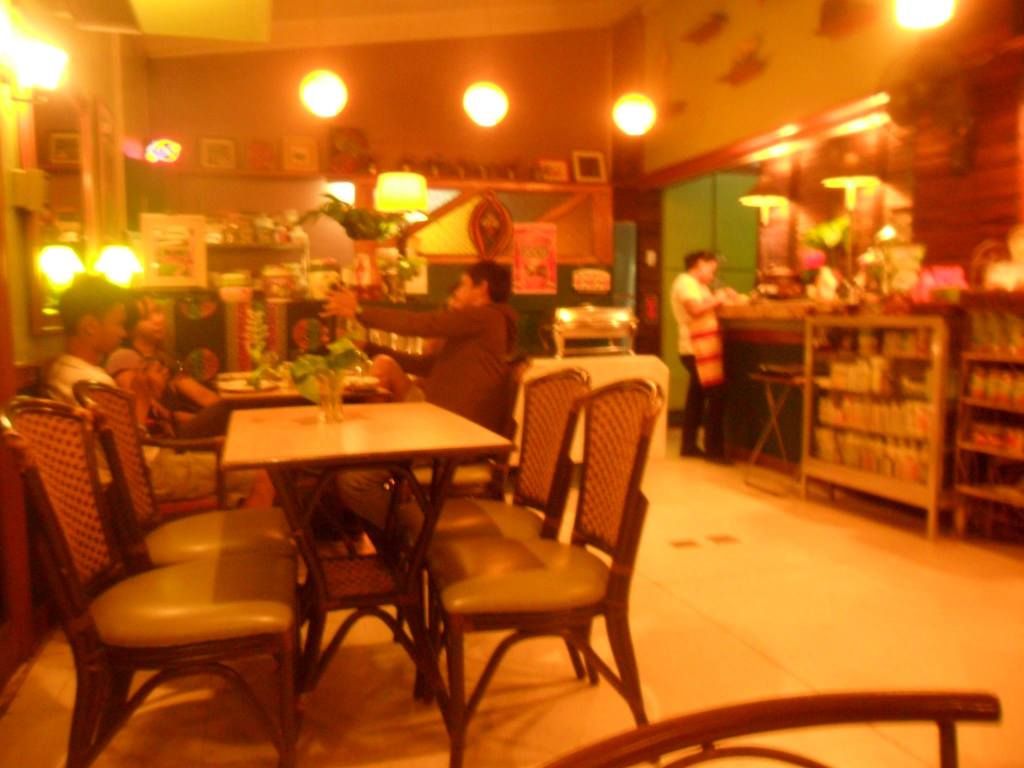 Known for its garden-like ambiance and its chill setting, Greens served a variety of vegetarian meals with meat made of gluten or soya, and most of the customers were those of petitbourgeois wanting to have a healthy lifestyle, if not religious ones, such as the Hare Krishna and its strict adherence to vegetarianism.
It was last year when this writer, once worked as an office staff, had usually ate meals there especially during lunch and early dinner; other than seeing the good ambiance and listening to its taped guitar music, he orders the mouth watering meals like "Pastel de Vegetal" or "Shepherd's Pie" (obviously looks like the WW2-era "Woolton pie") along with java rice and some cold tea.


Quite affordable though their serving this writer usually eats on that resto, although their combo meal, consists of the meal of the day, and usually served during lunch time costs 90 pesos yet just like the usual food he orders, enough to fill a stomach yearning for gluten, soya, and vegetables rather than the usual meat this writer eats at home. Greens also sell coconut sugar, tofu chips, canned veggie meat, wheatgrass and other organic items vegans and vegetarians love.
And somehow those times this writer seemingly love the good taste thanks to the cooks and others behind that one of a kind restaruant. Meanwhile, this writer's friends were allegedly partying at its next door neighbour, a bistro playing club music and drinking liquor. Contrasting!
QuanYinChay vegetarian food garden
During his Chinatown journey comes with this writer again reviving his taste for vegetarian food such as visiting QuanYinChay vegetarian food garden at Ongpin st.


Just like Greens, QuanYinChay serve good vegetarian food, with its customers mainly consists of Chinese buddhists if not Hare Krishna adherents or those whom curious enough to eat foods rich in vegetables and mock meat, be it may Chicken, Beef or Pork yet made out of soyameat and gluten.
However, the difference lies in the simplicity of the setting. Quite simple, humble yet pleasing as compared to the classy, homey appearance of Greens, but despite the differences between the two restaurants still lies the same interest in serving good vegetarian food: they do have combo meals as well that costs 80 pesos served with rice and a glass of hot tea.
Also in QuanYinChay he had experienced drinking German-made KinderBier known as "Malz" (malt beverage similar to beer but not undergone fermentation, hence no alcohol), and renewing his interest in drinking Herbal cooling tea just like during his freshman years in college.
This writer's friends may had not yet visiting the restaurant despite eating with yours truly at the well known estero. Obviously, they may not take interest in eating the food this writer had enjoyed out of curiousity. Speakingp of Hare Krishna peeps earlier, QuanYinChay seemed to be the place where they bought their Prasadam if they had no time cooking. It is also the same place where they, as well as other vegetarians buy their gluten, soyameat, mushroom-based "oyster" sauce, even vegetarian noodles, soup base and even Mogu Mogu nata de coco drink aside from Malz and Long Wo Kat Herbal cooling Tea!
Both Greens and QuanYinChay made this writer having developed good taste in vegetarian cuisine. The classy, homey appearance of Greens brought the urge to eat so was the sacredness of QuanYinChay. The latter, true to its name of the Goddess of mercy had called everyone regardless of faiths to eat foods brought by earth and bring compassion, mercy to the beasts whom mankind think of as food such as pigs, chicken, or cattle.
But come to think of this, since there are those whom had chose to stop eating meat had also created alternatives to their supposed craving. Soya for instance resulted to bean curd and its "skins" brought Soyameat; wheat brought gluten and in it also became their meat to eat upon. Be it may faux pork, chicken, beef yet still made out of wheat or soyabean and quite taste good.
Admittingly speaking, seemed quite strange for this writer, who used to be picky in regards to eating food had afford to eat veggies and mock meat from those two restaurants he had visited. Unlike his father whom really don't like vegetarian food (for they are mainly consists vegetables and no meat so to speak), this writer had least trying to go beyond pickiness when it comes to eating vegetables.
Obviously, he would say that there are meals that are good to be eaten and be described as delicious yet there are those that seemingly unpalatable and hence doesn't like eating it. Just be careful in preparing and make it palatable.


***
Greens Vegetarian Restaurant and Cafe is located at 92 Sct. Castor St., Quezon City 1103 with telephone no. (02) 415 4796

Quanyinchay Vegetarian Food Garden is located at 821 Masangkay St Binondo, Manila with telephone no. (02) 243-3356.