On the recent June 12 protests: from an observer's view
IT SEEMS that last June 12, Independence day was also a day of angst against people yearning for freedom against corrupt bureaucrats and a system whom protects them despite assuming itself as righteous both word and deed.
As most of these protesters had marched from US Embassy up to Liwasang Bonifacio, and eventually at Mendiola, these protesters had to endure the sudden cold and heat, and some had even raised posters featuring pictures of senators Enrile, Revilla, Estrada, as well as secretaries Abad and Alcala.
And with their latest chants like "Noynoy Aquino, Pork Barrel King!" and "Pork Barrel tanggalin, Noynoy patalsikin!" (Remove Pork Barrel, Oust Noynoy!) Protesters from different organizations also called for Aquino's ouster, citing his negligence in running state affairs, coddling corrupt bureaucrats with the latest Pork Barrel scam, and failing to implement agrarian reform in case of Hacienda Luisita and other estates owned by the ruling classes.
Bureaucrats involved in the scam were objects of rage in that event aside from the negligent head of state: Executive secretary Abad and Agriculture's Alcala are being emphasized in the program aside from the senators Enrile, Revilla, and Estrada. "As things stand, only a select few have been investigated and prosecuted. Aquino himself has been leading the cover-up of the pork scam by insulating his allies and cabinet members like [Budget Secretary Florencio] Abad and [Agriculture Secretary Proceso] Alcala," according to BAYAN's Renato Reyes.
However, both Abad and Alcala denied accusations with the former insists that he supports the president's anti-graft and corruption program. But people whom are sick and tired of these bureaucrats chose not to believe in their innocence same as the president whom at first promising to scrap pork in the form of PDAF, only to be replaced by Disbursement Acceleration Program, known as DAP; so he was promising freedom of Information, only to favor the newly-passed yet infamous Cybercrime law with its emphasis on CyberLibel.
source: Interaksyon
The protest march includes an effigy of a pig reminiscent of the golden calf being paraded to the amazement of the onlookers. It was first been shown in last year's anti-pork demonstration in Makati's Ayala triangle.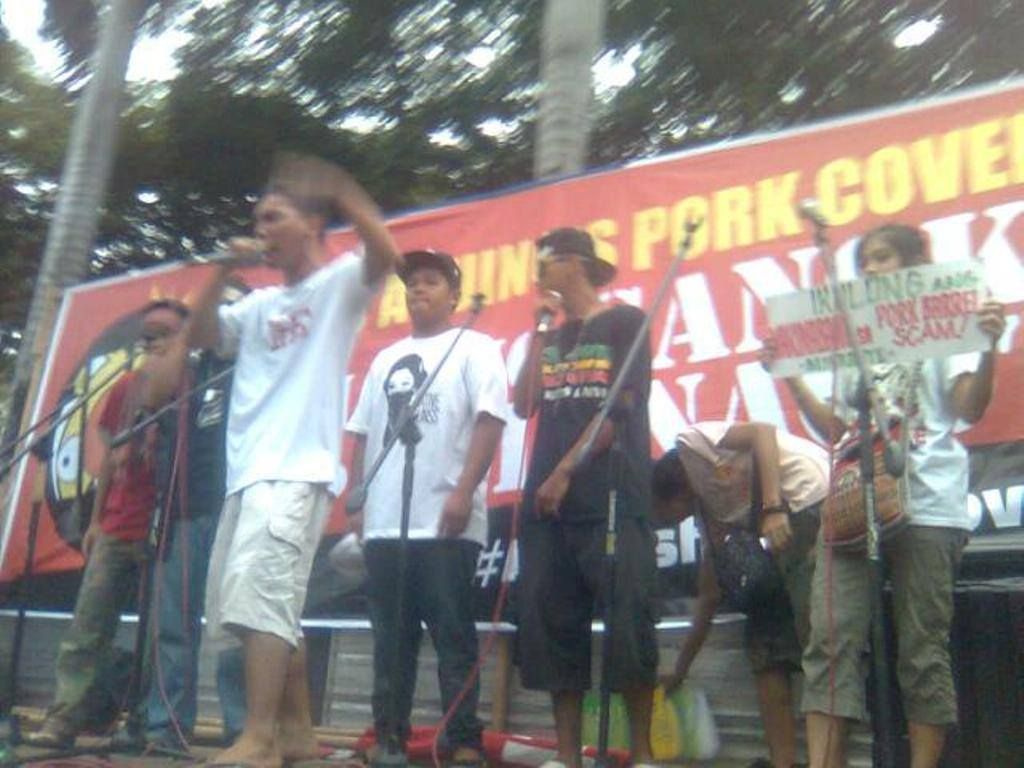 Other than BAYAN, groups like Victims Against Crime and Corruption, as well as individuals like Bishop Oscar Cruz, NBN-ZTE Whistleblower Jun Lozada, Mae "Juana Change" Paner, and Blogger Tonyo Cruz expressed disgust against the present administration and his slow handling of justice against Napoles and corrupt bureaucrats. Street rappers turned activists had also vent their rage through music, while other speakers subjectively heckle President Aquino from being bald to being negligent in national tasks if not coddling criminals in Barong Tagalog or coat and tie.
Scarborough Shoal, EDCA, and costumed protest at US Embassy
Other than Pork Barrel, there were issues being discussed like the Scarborough Shoal and West Philippine sea, stressing Philippine sovereignity over the contested rocks, shoals, and isles west of Palawan; as according to former Congressman Teddy Casiño, he said that BAYAN rejects "incursions of China in our Exclusive Economic Zone," but also opposes a new agreement that will allow US troops to establish facilities inside Philippine military bases. "All these are threats to our independence and sovereignty and we are here to defend them," he said.
source: Philippine Star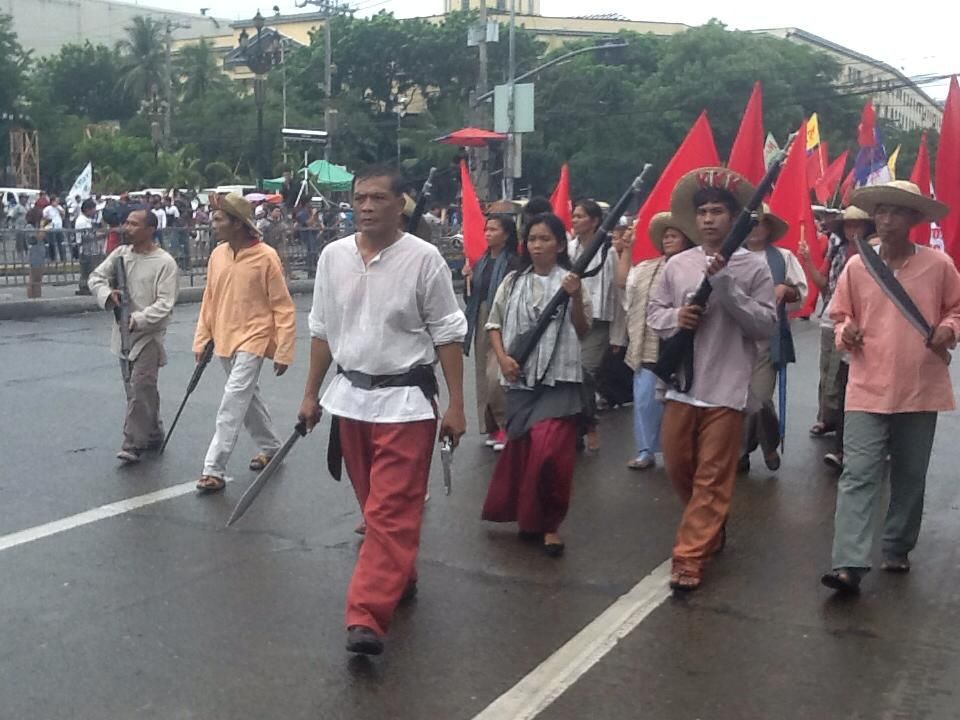 And prior to the march towards Liwasan, a group of protesters, dressed as Katipuneros led the way in marching with rest after a near-scuffle with the cops at US Embassy with the latter confiscating some of the props like wooden guns and bolos. Some of the costumed protesters were still carrying their props as they marched towards the program site.
The protest near US Embassy was against the agreements that protesters described as unequal and one sided. Examples of which are the Visiting Forces Agreement, Mutual Logistics Support Agreement, and the latest Enhanced Defence Cooperation Agreement; so was last year's Tubbataha reef, wherein USS Guardian had ran aground in its coral reefs and the US Navy still has to face a 58 million peso fine left unpaid.
Meanwhile, in Naga
Meanwhile, most news reports shown that President Aquino and his retinue had rather celebrate independence day in Naga city, Camarines Norte instead of Manila's own Quirino grandstand. In his speech, he stated that his family's legacy taught him "the importance of fighting for equality to break the cycle of vicious injustice." And he is "in a position to apply these principles, to do everything in his power to proffer justice not to a select few, but to the entire nation."
But the protest actions didn't focus entirely on Liwasang Bonifacio and later on, at Mendiola. For a group of activists had afford to voice out angst against the administration, in which Emmanuel Pio Mijares, a student from Ateneo de Naga University had been arrested and detained for 12 hours for criticizing publicly during Aquino's speech in Naga's Plaza Quince Martires, shouting "Walang Pagbabago!" (There's no Change!), "Noynoy Aquino, Pork Barrel King!" as well as raising a red banner that read "Education for all. Stop privatization!"
Mijares is a member of the Youth Act Now and Kabataan Party List, both militant organizations. And was brought to the Naga City police office and will be charged with violating Article 153 of the Revised Penal Code that "serious disturbance in a public place, office, or establishment, or shall interrupt or disturb public performances, functions or gatherings, or peaceful meetings" with a fine of P1,000 and from two to six months in prison.
In response, College Editors Guild of the Philippines condemned the arrest. "If a mere exercise of rightful expression is a basis for incarceration, then the BS Aquino regime is no different [from] the fascist orientation of the Marcos Martial Law," according to its statement. While Karapatan Bicol spokesperson Paul Vincent Casilihihan issued a statement condemning the arrest and detention of Mijares. "Dito mismo nakikita ang kabalintunaan na kapayapaan na sa mismong araw ng kalayaan ay hinuli siya," (it is here you have seen the irony of peace in this independence day where he arrested.) Casilihihan said.
The actions taken by Mijares and others in Naga is a part of people's disgust against the administration especially in regards to insufficient distrubution of social services aside from the present Pork Barrel scandal. Up to the extent of disrupting the president's speech and subsequent imprisonment they had to vent the inconvenient truth behind Aquino's "Righteous path" that is marred by corruption scandals and a negligent government when it comes to certain issues like unemployment (regardless of job fairs that means contractualization and insufficient wages), insufficient access to health care and social services (especially those victimized by Yolanda), and peasant struggles in lands owned by the privileged few like Hacienda Luisita, Looc, and Central Azucarera de Don Pedro.
Conclusion
People may misunderstood if not altogether disregard about the protests regardless of the topic like Pork Barrel, Kalayaan Group of isles, or Cojuangco's Hacienda Luisita. Oftentimes, there are those trying to describe those protesters subjectively as Pro-Chinese simply because of the present Republic is acting as if a protectorate of the United States and its series of unequal treaties that somehow made the late Claro M. Recto said right about his country's foreign policy as mendicant, aid in exchange of having its own yard and its matters be intervened.
But come to think of this, since the Philippines had celebrated its day of freedom against colonizers, what is independence if has to rely on a bigger country than to stand up on its own and acting mendicant aside from a system that is indeed corrupt with officials siphoning off money from the people? Save for those whom had national concerns, is the people had loss of national consciousness save for Boxing rematches and beauty contests? Vietnam is same as China's but did resist its northern neighbor by its own, so should be the Republic whose people takes pride in anything yet failing to act in support of realizing patriotic aspirations. Neither Washington nor Beijing would make a nation great regardless of aid being given or money being invested.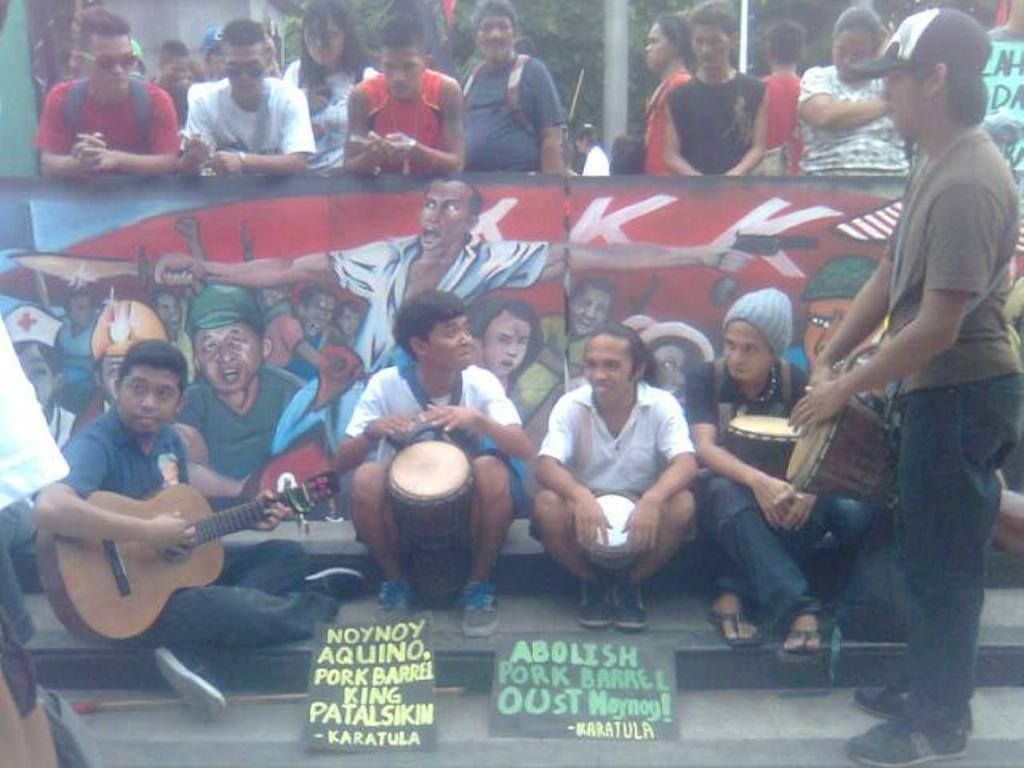 Hence, the struggle continues knowing that age-old problems continue to persist. Protests will still continue citing that peasants have no land to till, workers for their bread, an end to all corruption, and a nation yearning for a just and lasting peace.